For two young South African golfers from Western Cape it was a dream come true, flying over 6,000 miles to play some of the most famous courses in the world.
The Scottish Golf Union (SGU) had invited the South African Golf Development Board (SAGDB) to send two players to compete in several events this summer. Keelan Africa, 16, and Dylan Jacobs, 15, were chosen to increase their experience.
During the visit they played at many great courses, including the Old Course at St Andrews, Muirfield and Prestwick. They also went to the Open Championship at Muirfield in July.
The South African Golf Development Board, which is helping Dylan and Keelan to achieve great things, and the Scottish Golf Union, which facilitated the trip, are both organisations which are now benefiting from support from the Alfred Dunhill Links Foundation, the charity arm of the Alfred Dunhill Links Championship, which has raised more than £4 million for charity since 2001.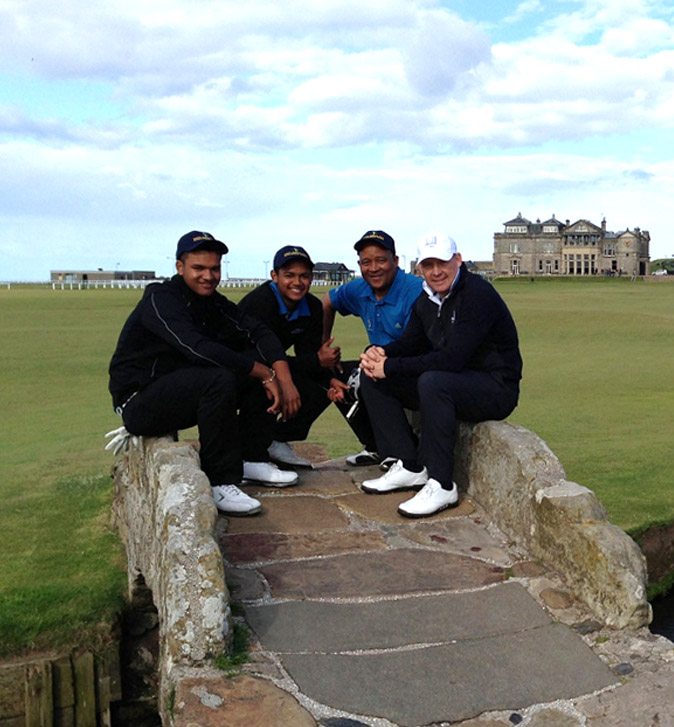 Above: Keelan and Dylan with Grant Hepburn and Andre Roussow from SAGDB at St Andrews
Accompanied by SAGDB manager Andre Rossouw, Dylan and Keelan learned much from their experience. Here is their story:
Q; What was it like to play at The Old Course?
Dylan Jacobs: It felt like I was playing in The Open. The atmosphere at the Old Course was very different to the other courses in Scotland. There, everyone is taking pictures. Everyone is just crazy about golf. The caddies were a lot of fun and made the day really enjoyable.
Keelan Africa: For me, this was something I will always treasure. Playing on a course with such big greens, challenging slopes and obstacles was a whole new experience for me.
Andre Roussow: For most average amateur golfers, St Andrews is the Mecca of golf. It is something holy in the sport and being a golf fanatic it was one of the finest moments in my life teeing off at the Old Course. It is something no one can take away from me, ever. The result on the day was irrelevant, it was much more about the experience. The idea that Louis Oosthuizen won his first major on the same course was also a special feeling. The culture around the whole town is built around golf and the university. I liked that a lot.
Q: You were allowed into the R&A Clubhouse, the Home of Golf. In there you saw the original Open Championship belt and trophy and medal. Did you learn much from that day and what was the experience like?
Dylan: To be able to see the original trophies that were won by some of the greatest golfers that ever lived was just a privilege. I had no idea that the Open Championship had so much history.
Keelan: My visit to the R&A Clubhouse was another experience that will always stay with me. What I learned was that you are not allowed to enter the clubhouse without wearing a jacket and tie. You are also not allowed to enter it without being accompanied by a member.
Q: Describe what you felt when you went to the British Golf Museum and also the Hickory Shaft company and golf course?
Andre: All the people that showed us around had an excellent and passionate knowledge of the history and that made the experience interesting and exciting. It was surprising to see something at the museum coming from South Africa, like the picture of the Bloemfontein clubhouse and the caddies' homemade clubs that were made from wire. Those kinds of wire clubs were also my first experience with golf, where we hit everything that we could hit, from wire clubs to sticks! It definitely changed my perception of museums.
Q: What did you learn from the tournaments that you played in?
Dylan: I have learned that you have to stay focused since the courses there were much more difficult than the courses in South Africa and the conditions were very different. I also discovered that courses with different conditions cause you to make necessary changes in your game plan and approach.
Keelan: We competed against strong competition and the scores were fairly low. What I found difficult to get used to was that tournaments started very late and thus also ended very late. Perhaps I need to work on my fitness!
Q: You played at Prestwick, Western Gailes and other famous golf courses. What would you like to say about those experiences?
Dylan: It is difficult, tough and sometimes even dangerous to play some of these courses without a caddy, for instance at Prestwick. Western Gailes is beautiful alongside the ocean. I also learnt that a lob wedge is not necessarily the best choice around the greens!
Keelan: The biggest lesson that I learned was to keep your ball on the fairways as much as possible and that distance is not as important as accuracy. The other thing that I realised was that it was not always necessary to use a driver when teeing off. You are also forced to continuously think about which side of the green would be easier to putt from.
Q: What was your favourite part about the British Open?
Dylan : It was when Keelan and I shook hands with Gary Player and I had an interview with him. Then as we were watching Ernie Els on the practice range, he came over to us to say hi, and after that everyone was looking at us. We were so lucky to play the course two weeks before The Open.
Keelan: For me it was when Ernie Els come over to us and chatted. The other highlight was when we met fellow South African players such as Branden Grace, Louis Oosthuizen, Charl Schwartzel and Richard Sterne.
Andre: Being at The Open really broadened my experience and the way I think. I will strive to give the same experience to my family, because I believe a person should do it once during their life. So many people just accept doing this as something usual, but where I come from, this is only a dream. It is thanks to the SGU and the SAGDB that I was able to experience a once-in-a-lifetime opportunity.
Q: What message will you bring back to South Africa and give to your friends and fellow golfers?
Dylan: Keep up the good work and you will achieve great things. Hard work pays off! Have dreams and never lose hope in life.
Keelan: I learned that with hard work, everything is possible. I also learned to believe in myself and to see challenges as just another obstacle on my way to my ultimate goal in life. What I experienced, money can't buy. I sincerely hope to use the experience I gained, not only to further my golfing aspirations but in my everyday life as well.
Q: Has the experience in Scotland changed anything for you?
Dylan: Yes, it has changed the way I see everything now, especially golf. I just want to thank everyone who made it happen. I also learnt that travelling is a wonderful experience, but it can be tiring and I realise now that playing on tour is not as easy as it looks.
Keelan: It changed my whole thinking – not only in school but also my approach when playing golf. I have a better idea of what it takes to reach the top and also how much history this game has. I realise now that there is much more to playing on tour than I originally thought.